Caroline Meaden is our LGI Artist-in-Residence at WXYZ Studios from 5 November until 23 November.
About Caroline's LGI Residency
This LGI residency is an initial development period for a new work.
The project is a collaboration with sound designer/composer/singer, Emah Fox, and trumpeter/sound designer, Jeremy Meaden.
Here's what Caroline said of the work on the eve of beginning her residency:
"Thematic and conceptual references often accompany my studio making process as associative references, rather than guiding motifs. In saying this, my project is partially informed by experiences of voicelessness and inability to vocalise in childhood.
For this first development I will be gathering experiential accounts, sensations and images and bringing these into dialogue with my movement practice – drawing links and examining the web of relationships between particular, insistent rhythmical characteristics and more sub-conscious compulsions.
This dimension to my project sits in conversation with my ongoing performance practice – which always interrogates the act of performance in its relation to theatricality and modes of 'presenting'.
I'm curious to develop both a specific and detailed movement vocabulary for this piece, and, as a non-actor/singer, to contrast this by engaging, in a more raw sense, with voice and vocalisation."
Keep an eye on LGI and WXYZ Studios social media for updates on Caroline's residency.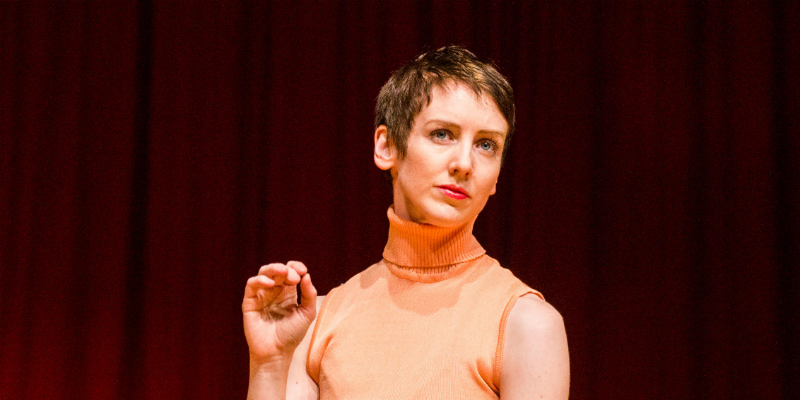 About Caroline Meaden
Caroline Meaden works as a dancer/choreographer across performance and live art contexts.
Originally from Geelong, she studied at Adelaide Centre for the Arts and the VCA. Her solo choreographies include; Blowin' Up: Sneaky Bastard for The Substation's curated Melbourne Fringe Season (Winner: Arts House Evolution Award), and as part of her Postgraduate Diploma in Choreography (Too Much Sun and Untitled).
As one third of Slown, Smallened and Son, she has created and performed in This is What's Happening (Winner: Best Dance Melbourne Fringe, nom. Green Room and Australian Dance Award), Fallen O'er (nom. Australian Dance Award), Lady Example for Next Wave Festival and Let's Go Up Here for FOLA at Arts House. She recently presented the participatory score based event, Trilogy of the Desert:Mirage as part of FLUX-KIT-MEL (curated by Dan Koop and Jamie Lewis) for the MEL&NYC Festival at NGV.
She was a collaborative artist on the three-time Green Room Award-nominated work, Blizzard (directed by Nat Cursio) and has been an artist in residence at Artshouse, Tasdance, Mosaico Danza (Italy), Dancehouse, Lucy Guerin Inc, Vitalstatistix and Chunky Move Maximised.
As a performer she has worked for: Shelley Lasica (Behaviour Part 7), Michelle Heaven (In Plan), Monica Bill Barnes & Company (NY-The Gallery Workout), Natalie Cursio (Blizzard, Tiny Slopes), Phillip Adams Balletlab (Metamorphosen, Melbourne Art Fair), Alice Dixon (Lucy Guerin Inc. Pieces for Small Spaces) and Reckless Sleepers (BEL/UK – A String Section) among others.
Caroline recently performed as a Merce Cunningham Residency dancer for the American Masters Season at the NGA, and later this year she will undertake a solo choreographic residency at Lucy Guerin Inc. and facilitate Playing Up by Sibylle Peters at The Substation. Caroline's work has been supported by Besen Foundation, Creative Victoria, The Australia Council and City of Melbourne through Boyd Studio 1 Residency.
About LGI Residencies
LGI Residencies offer artists the freedom to explore new ideas, develop new works and cultivate their choreographic practice. Studio space and administrative support are offered by LGI, as well as the opportunity to share outcomes of the residency in a way that best supports the artist in residence.
For more information on LGI's residency program and the other 2018 Artists-in-Residence, please visit the Residencies section of our Programs page.