About Siobhan's Residency
This LGI Residency was a Moving Forward residency - designed to support the development of works nearing presentation. Here's what Siobhan said about her time in-residence:
During this Moving Forward Residency at LGI, I have been developing my work Rhythmic Drama which is inspired by concepts explored in my latest work Drama 2,3,4, presented in the 2019 Lucy Guerin Inc program PIECES in collaboration with The Substation. It has been really exciting taking these initial explorations further with my five collaborating dancers and sound designer.
Over the two weeks, we have been developing a choreography of rhythmic patterns and physical gestures that allude to various absurd plot lines and scenarios. The new work is an exploration of time and theatricality from which audiences can draw their own narrative. Moving forwards, I hope to secure further development and presentation opportunities for the work and reflect on this creative time at LGI as I begin narrowing the focus of the work towards a presentation outcome.
As part of the residency, LGI also hosted Siobhan for a Critter - a platform to engage an audience in a critical dialogue around the the work. Siobhan's Critter on Thu 11 Feb with an invited audience of peers and industry colleagues at WXYZ Studios.
Siobhan's project has been generously supported by Creative Victoria and the Besen Family Foundation.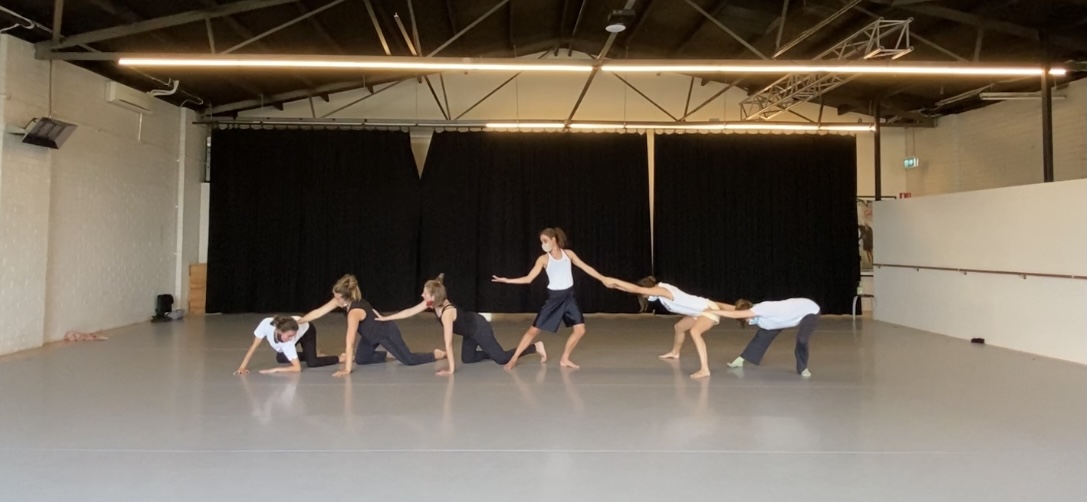 Image: supplied by artist
About Siobhan McKenna
Siobhan is a Melbourne/Naarm based choreographer and dancer, graduating from the Victorian College of the Arts in 2016 with a Bachelor of Fine Arts in Dance.
She has since presented her award-winning choreography internationally as well as in key Australian festivals such as Dance Massive, and developed ongoing relationships with major companies such as Temperance Hall, Lucy Guerin Inc. and Dancehouse. Over the past four years Siobhan has been building an artistic practice that investigates movement, sound and language using rhythmic structures and patterns. She has been researching ways of incorporating these together to expand and question the relationship between the mediums. Siobhan has presented three choreographic works; Petri-Dish (2016&17) performed at the VCA then remounted and toured to Hong Kong and Singapore with the University, Utterance (2017&19) presented in the Melbourne Fringe Festival and Dance Massive Festival with Dancehouse and Drama 2,3,4 (2019) presented in Lucy Guerin Inc.'s program PIECES in partnership with The Substation.
Siobhan's work Utterance received the 'Best Dance Award' and 'Temperance Hall Award' in the Melbourne Fringe Festival and received a nomination for the 'Shirley McKechnie Award for Choreography' in the 2019 Green Room Awards for its presentation in Dance Massive Festival.
Creative team:
Rosie Leverton - Producer
Max Dowling - Sound Designer and Engineer
Arabella Frahn-Starkie (Collaborating Dancer)
Isabelle Beauverd (Collaborating Dancer)
Emma Riches (Collaborating Dancer)
Tra Mi Dinh (Collaborating Dancer)
Claire Leske (Collaborating Dancer)
About LGI Residencies
LGI Residencies offer artists the freedom to explore new ideas, develop new works and cultivate their choreographic practice. Studio space and administrative support are offered by LGI, as well as the invitation to share outcomes of the residency in a way that best supports the artist in residence.
For more information on LGI's residency program and the other current Artists-in-Residence, please visit the Residency tab on our Programs page.


Lead image: Drama 2,3,4 (2019). Credit: Gregory Lorenzutti