Why does this image interest you?
I visited Westgate Park for the first time the other day. It's a salt lake which used to be a really vivid pink but lost its colour some time in 2019. It's pretty ordinary to look at right now, a gross greeny-mustard colour, but the plants surrounding it are lovely, including some pretty pink flowers. The lake interests me because it's a heavy-handed symbol of the times we live in. Currently, it sucks, but if you look around the edges there's beauty, and maybe one day, with care, the pink will come back.
What words do you use to describe your occupation?
Story-telling, transient, healing, vulnerable, connection, fighting, care, liquid, felt.
What are you reading/watching/listening to?
The Rise: Creativity, the gift of failure, and the search for mastery by Dr Sarah Elizabeth Lewis. Just started reading this, finished the first chapter and I've highlighted most of it, so many exciting ideas. Another book I've started reading is Sand Talk: How Indigenous thinking can change the world by Tyson Yunkaporta. I love the Perveen Mistry series by Sujata Massey. Detective fiction set in 1920s Bombay. Back To Nature with Aaron Pedersen on ABC iview is beautiful.
What are you enjoying at the moment, creatively or otherwise?
I'm trying to rest. I'm a bit burnt out right now, but a number of cancelled and postponed projects have freed up some time. I kind of want this rest to be productive, to allow ideas to percolate and ferment in the spaciousness, for the rest to be generative and creative. But I wonder if that's just my internalised capitalism speaking. Maybe I just want a rest. No creativity, just hibernation.
Can you tell us a little about how you're thinking about work and process at the moment?
I feel like I've spent the past year in Zoom and emails and endless applications, so I'm keen to reconnect to the actual practice of my creative practice. Once I've had a rest, I'd like to reconnect with my sense of play, curiosity and silliness, I reckon they'd be great antidotes for the bleakness. I think a sense of gentleness and care would also be important. I look back on how I used to do things and I pushed myself way too hard physically and mentally, I don't want to work like that again, especially in these stressful, dangerous times. A bit of care is what's needed.
What have been some of the most enduring references/influences in your practice to date?
Contemporary Indian dancers globally: Seeta Patel, Akram Khan, Mavin Khoo, Anita Ratnam, Mallika Sarabhai, Attakkalari. To quote Marian Wright Edelman, "you can't be what you can't see". My guru, Tara Rajkumar. Her strength is in the classical Indian dance and theatre art of emotional expression, called abhinaya (literally 'leading towards', or 'leading [audiences] towards [an emotional experience]). This is my strength too I believe, and I'm grateful to have learned from her. Queer performance art, Bollywood and South Asian cinema, fantasy and sci-fi books.
Raina Peterson draws on their training in mohiniyattam (classical dance of Kerala, India) to create experimental works exploring (trans)gender, sexuality, spirituality and time. With dance partner Govind Pillai, their full-length works include In Plain Sanskrit (2015), Bent Bollywood (2018), Third Nature (2019), Kāla (2019), and their dance film Drishti (Winner of two Melbourne Fringe Awards, 2020), which can be watched here until October 17 2021.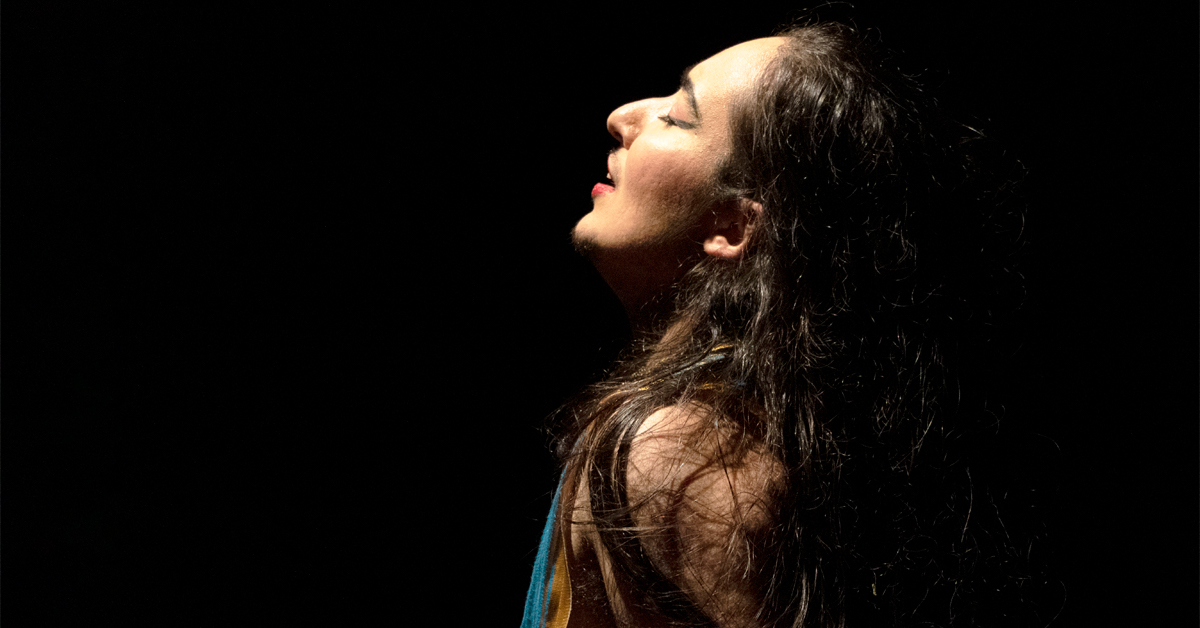 Lead image: Westgate Park by Raina Peterson
Image: Sangam Commissions Image credit: Arun Munoz
The Right Now series is generously supported by the Besen Family Foundation.